---
Description
Optimal irrigation in fruit and nut trees is essential to maximize yield and optimize fruit quality. To apply the optimal irrigation, growers needs to consider multiple factors related with the crop, soil, irrigation system, production objective as well as weather forecast. Irrigation management is therefore extremely complex and time consuming for growers because they need to take decisions in a weekly basis for multiple blocks with distinct characteristics. Grower decisions on irrigation management can be facilitated if grower adopt the 'Orchard' mobile application developed by itk. Vintel Orchards® is a user-friendly application where the grower can easily introduce their block characteristics, compare their irrigations to the optimal irrigation and receive alerts when blocks are not well managed.
---
Objectives
The main objectives of this project are to develop user-friendly mobile applications for scheduling irrigation in multiple crops based on crop water demand and forecasted weather, to facilitate the application of regulated deficit irrigation practices in orchards, and provide weekly irrigation recommendations and alerts from potential deviation from optimal irrigation
---

Development of DST to help growers
to facilitate irrigation scheduling for multiple blocks

Accurate calculation of irrigation needs
to maximize crop yield without any waste of water

Application of deficit irrigation
to save water and obtain economical benefits in your orchard

Verify your decisions
comparing your irrigations with an optimal irrigation and receiving alerts when a block has not received the optimal irrigation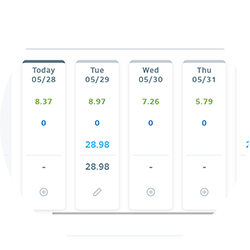 Weekly recommendations
Based on this information the application provides weekly optimal irrigation recommendations to satisfy the grower irrigation strategy considering crop water demand based on one-week forecast. The user will be provided with the following information.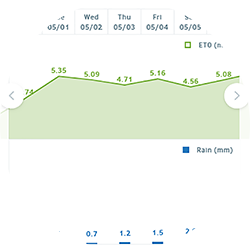 Weather Data
Easy access to weather data. As soon as the almond block is geolocated in the tool, weather data is available for the selected location. The user can visualize the seasonal patterns and a week of weather forecast for potential evapotranspiration, maximum, minimum and mean temperature, relative humidity, wind speed and solar radiation.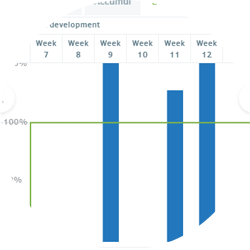 Historical data
On weekly basis for optimal irrigation and the user irrigation to identify possible deficiencies in irrigation management.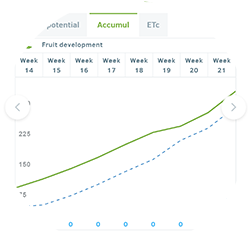 Accumulated data
During the whole season for ETc, Optimal irrigation, and the user irrigation to have an overview of the performance of the irrigation season.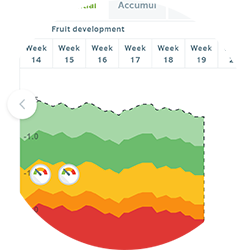 Observations and measurements
Verification of the water status of the trees. The user can add measurements of midday stem water potential in the tool. To help the user with the interpretation of these measurements the values will be presented in a graphic with different thresholds for water stress on almond. Additionally, the user can add other observations in the form of comments to track all the relevant events of a given block.
The application will be improved based on grower's requirements that could be:
---

Improve the management of irrigation
considering canopy variability within the orchard using remote sensing images

Implement field information from flow meters
soil moisture probes and pressure chamber

Manage the irrigation of other crops

Nitrogen Management