Multi-Service


100% connected
Vel'Phone

Calving detection
Reduce losses and postpartum issues by anticipating calving
Calving is a key moment in the life of your herd. Medria has created a particularly innovative and effective solution to optimize the monitoring of calvings with peace of mind. With the Vel'Phone®, you will receive text messages at each stage of calving to ensure you arrive at the right time, improving your results with more live calves and less post-partum complications.
---
SanPhone

Health monitoring
Be proactive to achieve ideal herd health
Early detection of health problems in cattle is key in reducing their impact on the health of your herd. Medria has developed the San'Phone® to help in the early detection of animals needing special care. The San'Phone® makes it possible to increase the curative efficiency of treatments and reduces losses in production and reproduction. Long term, it keeps an eye on the well being of the animals and allows more targeted use of antibiotics improving the sustainability of your operation.
---
Feed'Live

Nutrition monitoring
Monitor food intake to master feed efficiency
Mastering feed efficiency is crucial in improving the technical and economic performance of livestock.
To optimize your herd's nutrition, monitor feed transitions and to maintain optimum production conditions, Medria has designed an innovative solution. The FeedPhone® provides ingestion and rumination data in the form of daily indicators and delivers early detection of nutritional and health disorders.
---
Heat'Live

Heat detection
Mastering reproduction to increase productivity
To reduce the interval between calving, inseminate at the right time, and optimize the fertility and productivity of your cattle, the HeatPhone® solution is ideal! Wherever you are, you will always be aware of heats, allowing you to optimize the insemination time. Having all information on-hand becomes a priceless herd management tool.
---
Time'Live

Comfort and well-being monitoring service
The only tool for monitoring well-being
A sensor, attached to a collar and positioned on the neck of the cow or heifer, records the animal's behavior every 5 minutes and generates their "schedule".
Its analysis makes it possible to detect the faults of comforts / behavior of the animals as well as the animals suffering from pathologies (lameness for example).
The most efficient Monitoring solution for all livestock farms
Access FarmLife® from your smartphone or computer
Monitoring 24/7 the animals in order to assist you in intervening at the best time
Anticipating issues by providing you with qualified indicators updated in real time 24/7
Identifying the animals to be examined in order to confirm the opportunity of correcting the feed ration or treating the animal from a health standpoint
Allowing you to organize and schedule your Herd work
---
FarmLife®
How does it work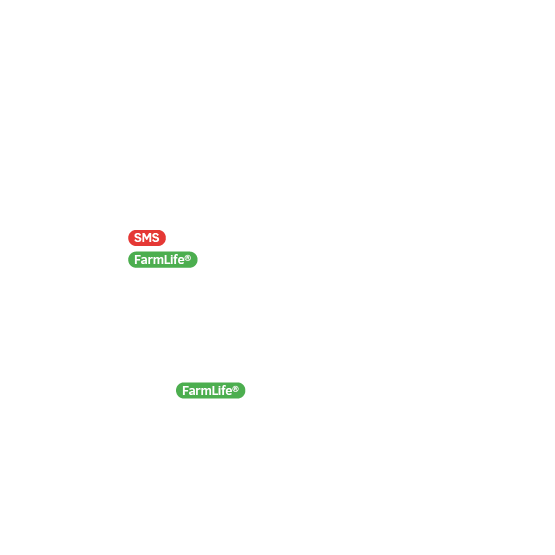 The box
Collects & transmits data
FarmLife®
Provides indicators & alerts
SMS
Real time information