At itk, we have one principle: being present to others, out of team spirit.
Every fortnight "Take a seat" gives the floor to the professional networks in which itk is involved.
They have energy to spare and we open their doors to you. Take a seat!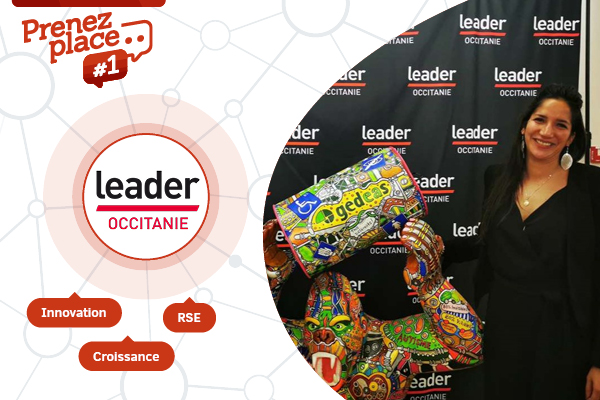 Today, Michaël Lapostolle, Secretary General of Leader Occitanie, answers our questions.
At what point in his development does a leader join Leader Occitanie?
We are a club that brings together innovative, growing and socially involved companies. These companies are growing either historically since their creation or because they are developing an offensive development strategy. We offer growth acceleration services to our members, thanks, in particular, to two business accelerators created with the support of the Occitanie Region and BPI France.
Leader Occitanie is addressed first and foremost to managers, offering them a space to share experience between peers on issues related to their responsibilities and strategic decisions. The whole is based on trust and good mood, we always try to combine business with pleasure, leaders must be happy to attend Leader events.
How relationship was established between itk and Vinseo ?
It is always first a question of meeting. Eric Jallas, President of Itk has invested himself, then passed the relay to the Marketing Director. itk is a force of proposal and it is the first company to be involved in the "Export Advisor" project. Export is one of the pillars of growth.
itk, which has 120 employees, is one of the major companies member of Leader. It is also a fast-growing company that is at the forefront of innovation in its Agtech sector. It provides support both through its international experience and its ability to create links between networks.
Thanks to the active contribution of itk another network such as Vinseo has become closer to Leader. Vinseo is the network of suppliers to the wine industry in the Occitanie region and the South of France. It is a real strategy of Leader to strengthen the links between clusters.
This period is marked by the beginning of deconfinement: What has changed for Leader Occitanie?
At the beginning of the crisis, faces were tense, closed. Discussions were centred on the issues of the slowdown and short-time working. Since May 11th, deconfinement has brought a smile back to the videoconferences. At Leader, even in this unprecedented period, it is not so much a question of saving activities as of continuing growth. This state of mind has not been impacted by the pandemic. The ambitions of development, especially internationally, are central in what brings the members of Leader Occitanie together.
Regarding the network, what trends do you see emerging?
We have created new discussion formats, such as inviting senior officials and experts. During the lockdown period, we carried them out on a weekly basis. This brings strong, inspiring exchanges and these videoconferences have fed the leaders for their post-crisis dynamics. Chartered accountants, Banque de France, Mediator of Companies, President of the Occitanie Region, have accepted our invitations. In the long run, these meetings will continue in order to understand and discuss the new economic issues raised by the crisis we are going through, on a regional and international scale.