In permanent teleworking, distance meetings make relations a little too formal. Our job is also to confront our intuitions: it's more complicated to do this on video. It lacks a bit of that warmth of being together to tell an idea or just like that, to discuss.
Videoconferencing leads us to redefine a new sociability.
At itk, the teams have recreated another way of maintaining the discussion rituals of the coffee machine, or the corridors, which preserve cohesion, lightness, complicity.
Despite the distance, collaborators are creative in order to keep their links. Judge for yourselves!
At 9am precisely, we have coffee around the "Passerelle": Before the arrival of the pandemic, some of the teams used to meet on the bridge that serves as a terrace in the itk premises in Montpellier. No more offices, that's all right! A virtual "gateway " was recreated from day one, thanks to the "Teamspeak" audio app coupled with Zoom. The initiative comes from Romain, an IT developer: "Saying hello, it motivates you early in the morning, and being able to see each other, it feels good".
The "Apéro CSE": every Thursday at 5pm, the employees meet in visio for a remote afterwork. "At the CSE, we wondered if teleworking was going well for everyone. We decided to set up the aperitif for a moment of good mood, of relaxation. To take news of each one, it is to maintain the link" specifies Julia, elected with the CSE of itk.
This weekly meeting also facilitates the integration of new employees who can then easily meet new people.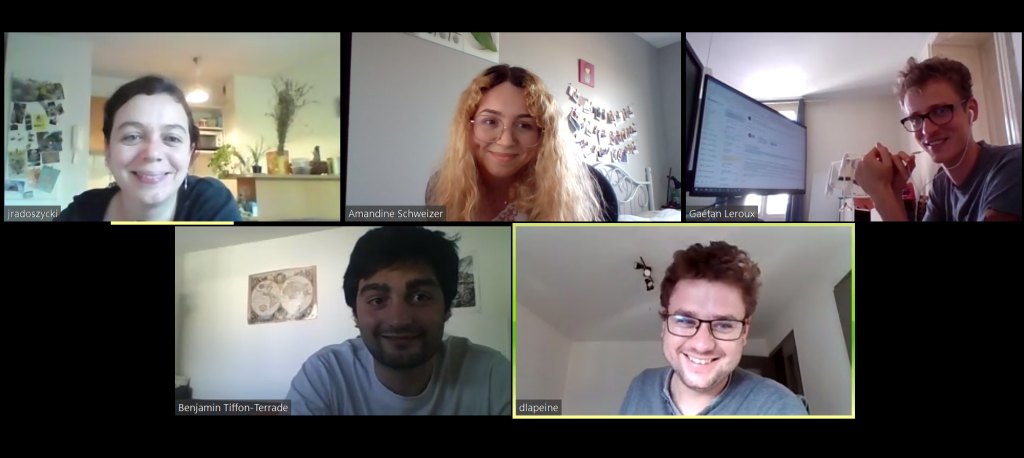 Other initiatives bring a positive tone to the way we share these special moments together. We are now at the 3rd Visual Challenge, launched by the Communication team: sharing photos of daily life, of one's indoor or outdoor garden, creativity challenge around the itk logo. "The photos and creations sent to us are sometimes offbeat, free and it cheers up our screens! It's also another way of discovering our colleagues, who let us discover their creative talents," says Marie-Laure, head of communication.