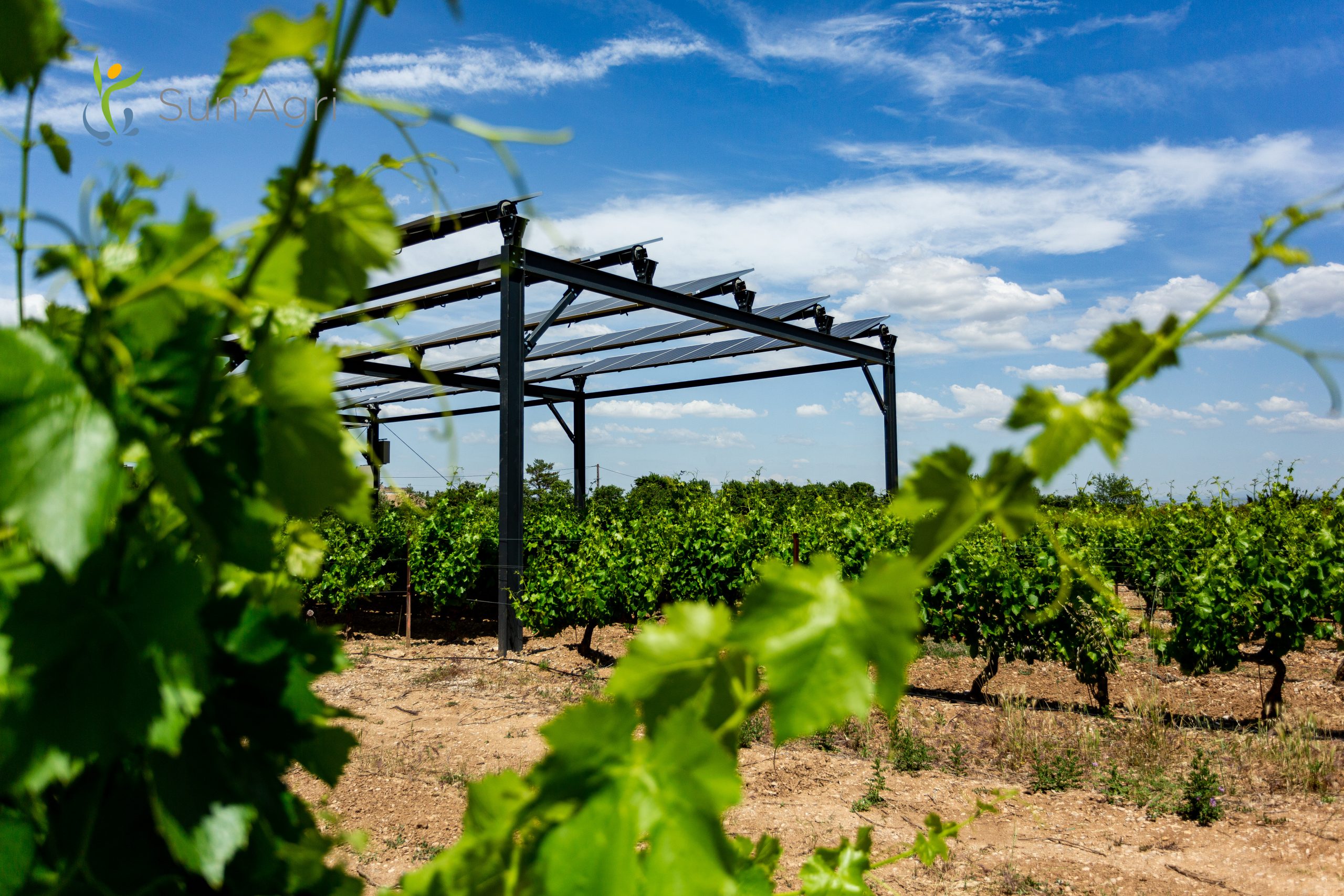 Sun'Agri,a pioneer in dynamic agrivoltaism and ITK, a specialist in Agri-intelligence and developer of agronomic DSTs (decision-support tools), have signed a partnership for industrial and commercial cooperation to help agriculture adapt to climate change. This 15-year collaboration is a world first, due to the original synergy it creates between two areas of the green economy: photovoltaic energy and precision agriculture.
The last decade 2010-2019 is the warmest decade ever recorded. This phenomenon has become worse between 2015 and 2019, reflecting an acceleration of global warming. These data, taken from the new report [1] drawn up by the World Meteorological Organization (WMO), translate into an exponential influence on our environment and our economy. This is particularly obvious on farms whose production is considerably affected by climate change (sunshine, water resources, etc.).
Faced with this challenge, it is urgent for the agricultural sector to adapt its practices. This is the job of ITK, a pioneering company founded in 2003, which has, for example, carried out prospective simulations on the effect of climate change in the vineyard, and changes in practices that would make it possible to mitigate its effects [2]. This has also been Sun'Agri's mission for more than 10 years through the development of dynamic (or piloted) agrivoltaism, a breakthrough technology, which modifies the microclimate of crops in real time to protect them from climatic hazards, according to their needs for shade or sunshine. The solution takes the form of a photovoltaic shutter located above the plantations, at a sufficient height to allow the passage of agricultural machinery. The orientation of the solar panels is based on algorithms developed by the Sun'Agri teams and tailored to the needs of each targeted agricultural crop (mainly vines, trees and market gardening).
Since 2009, Sun'Agri has been working on agri-voltaic technology and was joined in 2016 by ITK, the world leader in Agri-Intelligence, to jointly develop the photovoltaic panel steering system, ensuring the maximum benefits of shading on crop yield and quality. The two companies work daily to industrialize dynamic agri-voltaic devices and services, extending the know-how to a maximum of crops that are already suffering from climate change. In order to strengthen this cooperation and make it sustainable, Sun'Agri and ITK have signed a 15-year industrial and commercial cooperation partnership, aimed in particular at commercially deploying dynamic agrivoltaics in France and worldwide.
As part of this agreement ITK will provide Sun'Agri access to bioclimatic indicators and plant growth models for each targeted crop, which will progressively integrate the impact of shade. Taking into account this parameter, piloted by Sun'Agri under dynamic agri-voltaic infrastructures, opens up a new field of agronomy.
ITK's growth models are already making it possible to better predict the yield and quality potential of crops depending on the climate, soil and planting method; to adjust practices (irrigation, fertilization, treatments, pesticides); and to reduce the environmental impact of agriculture. The R&D work of the two companies, in partnership with INRAE, makes it possible to take into account the specific effects of the micro-climate of crops under photovoltaic shading (intermittent shading, decoupling between the climate of the plot and its environment).
With billions of data collected, Sun'Agri, thanks to this strategic partnership, is strengthening its knowledge, tools and methods on plant growth, enabling it to refine the algorithms driving the solar panels of dynamic agrivoltaic devices and to industrialize the steering of solar panels for the benefit of plants.
"This strategic partnership gives us a worldwide exclusivity in the utilisation of the most efficient industrial growth models in the world of plants. It marks a new stage in our work to optimize the performance of dynamic agrivoltaism" says Antoine Nogier, founder of Sun'Agri.
"This collaboration enables us to enrich our cultivation models, by integrating plant-climate interactions that are poorly studied at the moment. Beyond the specific field of dynamic agrivoltaism, it will enable us to further improve the precision of our decision support tools in conventional cultivation, and even in agroforestry. "adds Aline Bsaibes, Managing Director of ITK.
Presse contact:
Agence RUMEUR PUBLIQUE
sunagri@rumeurpublique.fr
Thierry Del Jésus : +33 (0)1 55 74 84 92 – +33 (0)6 60 47 90 38
Antoine Bolcato : +33 (0)1 55 74 84 91 – +33 (0)7 77 14 61 97
Amina Maaloum : +33 (0)1 82 28 37 36 – +33 (0)6 68 64 27 10