COVID-19 : Self-management is key to itk's resilience
Although the Covid-19 health crisis disrupted the economy in France in March, the majority of companies in the country had not yet switched to home working by that date. The transition of 100% of teams working remotly during crisis management can indeed be a real headache. A itk, Frédéric Martinoty, Head of itk's IT department, and Marielle Snellings, Administrative & HR  Director conducted the cross-interview exercise to explain how itk's culture was the key to installing 120 people on homeworking within 48 hours.
Marielle Snellings
Administration & Human Resources Director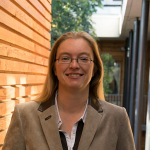 Fredéric Martinoty
SI Manager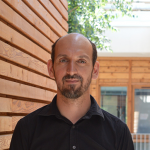 What was your role in getting the whole team to remote working?
Frederic Martinoty, CTO
Our role has been to ensure that infrastructure supports the growth of the number of people connected remotely in the same time, to all our tools. There are more people connected in VPN (secure private network) and on our collaborative tools than usualy, it is necessary that the service is provided for everyone
Marielle Snellings, Administrative & HR Director
Within the management team, we have made available to the IT department financial resources as well as time allocated, for several months, to support our growth. With the Covid-19 crisis, given our international activity, we were aware of the threat to our activity, even before lockdown. We were prepared and we anticipated, while adapting to the news day by day.
What have itk's strengths been in being so reactive?
Marielle S.
Remote working already existed in itk, in the form of TODDS (Occasional Telework at Employee Request) since 2014. At that time, this form of homeworking was rarely used and was used continuously by employees.
The practice has been generalised to improve the personal and professional life balance of employees (domestic breakdown, mobility problem,  need for concentration).
I have experienced this transition of 100% of the teams remotely in a positive way; this was done naturally. Everyone got organized and was able to reassure about their ability to self-manage, even those who were not used to remote working. Each employee put in good will by being proactive. I felt a lot of investment from all of the workers, which allowed everyone to be operational very quickly.
Frederic M.
We were able to settle the 120 itk group's employees on remote working within 48 hours, thanks to a very fast implementation by the It team. Our main missions, anticipated 24 hours before the announcement of lockdown, were to:
– Reassure all teams of our ability to deploy solutions for everyone
– Communicate on oll the tools available for comfort (helmets, telephone, VPN for all, etc.). One of the things that happened was that there was no over-reactivity, as everyone was prepared for.
– Set up conference call tools with clients who are not used to them
At the IT department, as soon as we were informed, that is to say the Friday preceding the announcement of President Macron, most of the collaborators tested his VPN upstream. People have mobilized. We have been responsive to last-minute requests and we have not been overwhelmed.
What do you think are the keys to moving itk to 100% remote working?
Frederic M.
As we are a growing company, itk's management has made the choice to follow a strategy based on anticipating the important growth of the IT system. They give us the necessary time, to consolidate IT tools and ensure the resilience of our infrastructure.
For several months, we have improved our tools: VPN, high-level tools to ensure videoconferences, corporate chat available everywhere and for all. We were able to move from 10 to 70 simultaneous users on the network (out of 120 employees) in a 24-hour period.
In addition, all itk workers were already equipped with a laptop with the exception of one person. It has been very facilitating for emergency deployment management.
Access to our private network is installed by default on the computers of all newcomers. We are in a very strong recruitment period, 35 people have come to strengthen the teams since last September. This is what led us to integrate the installation of a VPN in the hosting procedure.
Finally, we are "cloud-natives", meaning that our servers are not physically at home and that our data is stored remotely in France. This allows employees to have the same working conditions at home as in itk's offices.
For videoconferencing, itk has chosen the Zoom tool, and has a budget that allows to use the number of licenses required for all. The selection of this platform was based on many criteria, including the flexibility of account opening, while other solutions require that the service provider be ordered in advance a defined number of chat rooms.
The smooth transition to scale is also ensured by the quality of video and sound, which remain stable regardless of the traffic on our network.
Marielle S.
This has been possible thanks to the mindset of the employees and, above all, to the trust established at all levels of the company. This confidence is in itk's culture, which builds its model around the autonomy of the teams.
Management confidence and a generalisation of agile methods facilitated this autonomy. For example, concretely at itk the employee before starting remote working, consults his team; then, if the team agrees, the employee informs the employer.
We really started working with agile methods in the years 2010, for one of our projects, before expanding to other teams. In the early days, there was resistance in the teams, the agile methods being innovative. Now self-management brings serenity to managers.
Since then, we have broadened our vision of agile methods and even adapted them within the Administrative and HR Department. It brings us culturally closer to teams and helps us understand them better.
Have you had to deal with unexpected situations?
Frederic M.
We had to deal with an emergency situation. The project teams expressed the need for a multi-conference audio tool, which allows to recreate offices, in which the teams move from room to room, to attend workshops, which are held simultaneously.
We made the choice of Teamspeak, which offers the possibility of 32 people in the free license. In two hours, we deployed and started the test phase. We already have a very positive feedback from users, so we will expand the installation to more teams. We didn't use Discord for instance, as we want to control the security of data hosted on our cloud servers and guarantee the confidentiality of conversations.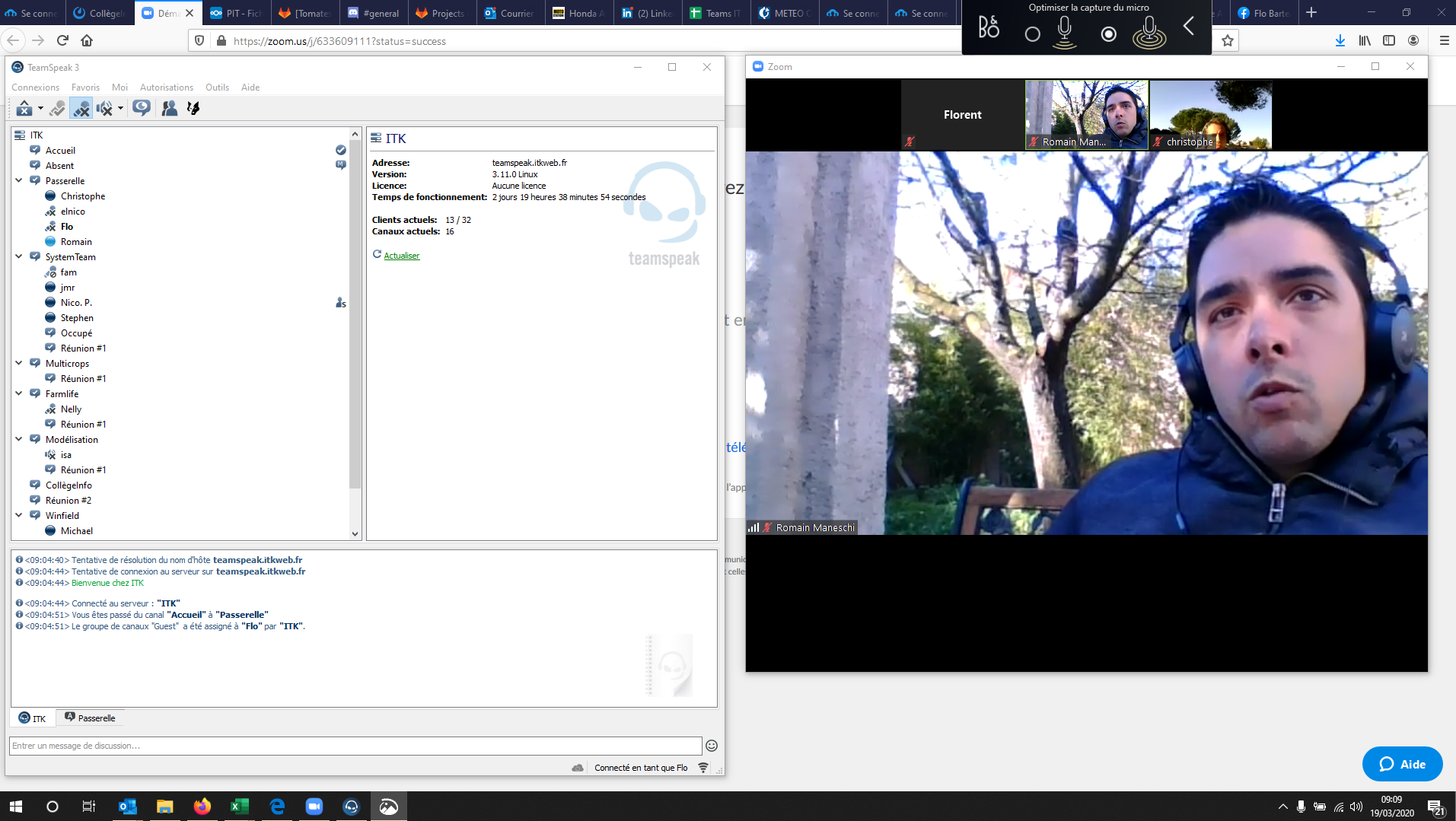 What are the teachings of this first fortnight?
Frederic M.
The next step is to reproduce the essential whiteboards and post-its tables in our agile methods, especially for project teams in SAFe method. This will enable each team, each of whose employees is at home, to work as in a face-to-face manner and to concentraye on the interdependencies of the actions of our projects, to identify the risks, the tasks to be foreseen, and to prioritize them collectively.
Marielle S.
I find it incredible to see how everyone was on deck this first 15 days of generalized work. We realized the immense capacity of the company as a whole to adapt very quickly to an unprecedented context. This gives more serenity to our ability to cope with this period.