Since its origin, itk has cultivated strong relationships with French and international education. Many universities and schools are linked to the company through formal or informal partnerships. These relationships meet three main expectations:
knowledge transfer: our employees are involved in course modules to transmit their expertise through lectures, case studies or tutorials.
job creation: the regular applications received from the students concerned are analysed by our departments with particular attention. By participating in the various job forums or professional days, itk encourages this approach. We also share our offers to higher education courses, from which our employees often come. They appreciate acting as ambassadors.
promoting careers: institutions seek to promote the career opportunities of their training courses. Naturally, as an agri-intelligence pioneer, itk helps to illustrate the professions related to agronomy and not only. More and more technological, these teachings appreciate the career paths of our talents who express their skills in the field of AgTech: modelling, integration, IT; and more broadly in marketing or project management. In this sense itk regularly brings its testimony in conferences, seminars and round tables organized by these institutions.
"Six years ago, a group of students from the M2 "Functional Biology of Plants" were working on a mission to explore the advantages / disadvantages of the different types of DSTs that were available on the market. The students got in touch with doctors from itk who took time to explain to them with great passion and pedagogy how DSTs work. Since then, a Bachelor's Degree in Agronomy entitled "Plant Experimentation for the Improvement and Protection of Mediterranean and Tropical Plants" was created to train multi-skilled technicians. Itk continues to intervene in this module. I would therefore like to thank them for sharing their knowledge and enthusiasm for DSTs with our students, particularly around the Cropwin® solution." Fabrice Varoquaux – Head of Training – University of Montpellier
"The most important point, according to my educational objectives, was to introduce students to digital agriculture businesses, in order to make them aware of the possible opportunities. The plus: the interactive aspect of your intervention, with manipulation of itk's tools (notably Vintel®). The students really appreciated it." Benjamin Nowak – Lecturer-Researcher at VetAgro Sup Clermont Ferrand – "Connected Agriculture" Module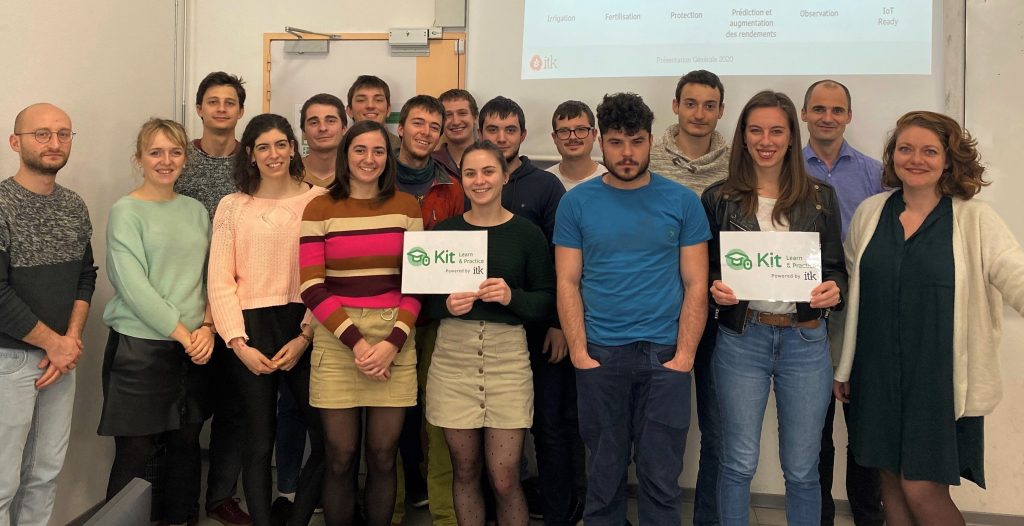 "It is important for our training to remain close to the realities on the ground. In the field of digital technology at the service of livestock farming, itk is an important player:
its expertise makes it a credible player among learners,
the strategic choices put forward, the type of sensors, associated alerts and the way in which solutions are financed with the Farmlife® range, are a source of inspiration and analysis to understand how these tools can penetrate such a market,
its mode of operation, training and staff functions are a door of understanding and projection for our learners in the construction of their professional project.
We have always been very well received, with enthusiasm, which has enabled us to complete our training offer in the best conditions". Jean-Baptiste Menassol – Head of the Digital Breeding module organised within the "Breeding System" option of Montpellier SupAgro.